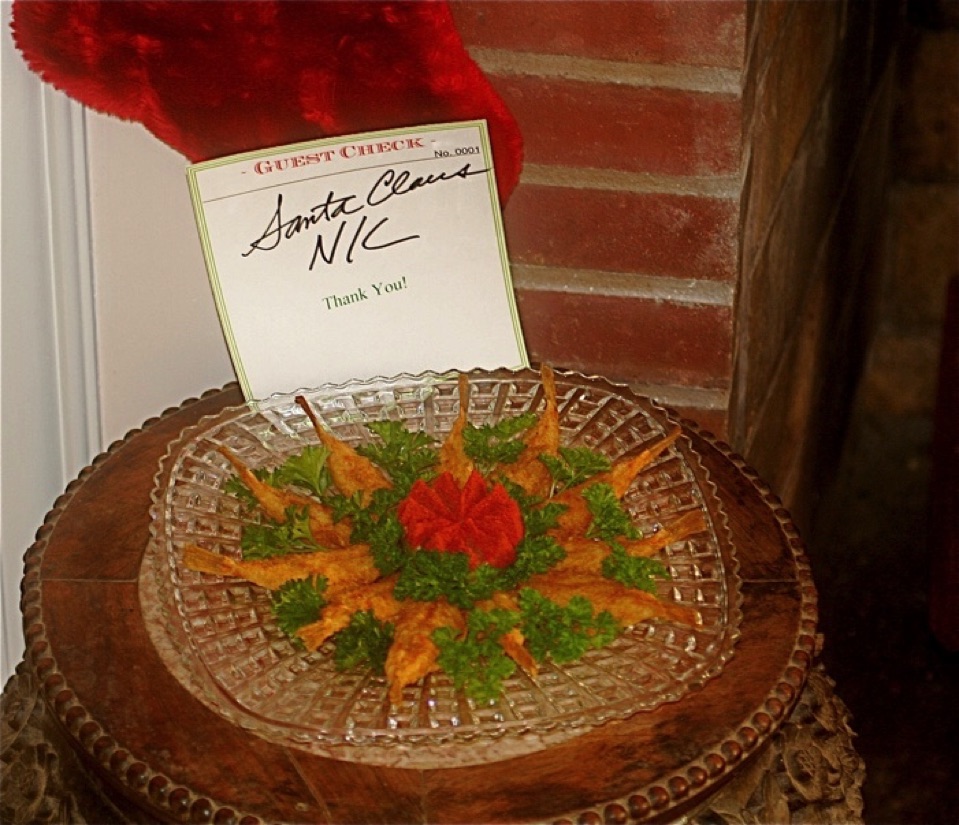 Blow Fish Tails alla Babbo – how many chocolate chip cookies can one morbidly obese elf eat?
La Vigilia–the Feast of the Seven Fishes, and Latkes–
A Duel to the Death, and Beyond
By
Chef Henry M. Summers
You can keep your leg o' lamb and country ham, madame–your roast turkey with chestnut dressing, prime rib with Yorkshire pudding, and all those other Dickensian delicacies. By Christmas Day, I was already projecting into the future to the next Christmas Eve, and that most delectable of all the world's religious feasts–la Vigilia, Italy's incomparable Feast of the Seven Fishes.
Through much of my childhood and early adolescence, a Friday rarely passed that the Summers and Buratti families didn't dine together at Tony's Lobster House on Route 17 in Rochelle Park, New Jersey. But on special occasions, capofamiglia Freddy Buratti loved to cook. Every year, he'd mark the first snowfall by shining up his battered old paiolo–northern Italy's traditional unlined copper pot–and make polenta.
But on the days leading up to the Feast of the Seven Fishes, Freddy became certifiably insane. All his wife Filomena could do was roll her big black eyes, and watch her immaculate white brick River Edge ranch turned into SeaWorld.
Why, you well may ask, a feast of seven fishes, and not six, or seventy-six? Seven is a number imbued with deep mystical meaning. Some have speculated that the seven fishes stand for the Seven Deadly Sins. Others have postulated that they commemorate the Seven Days of Creation. Still another hypothesis holds that the number is an allusion to the Seven Devils that Jesus cast out of Mary Magdalene.
The truth of the matter is not likely to be known, at least on this mortal coil. Though too happily ensnared by the Sin of Gluttony to bother with an actual tally, it's safe to say that Freddy's appetizers alone would easily have surpassed such a trifling number.
Lobsters were served either boiled with melted butter (to which Freddy always added a few drops of Worcestershire), or split, stuffed, and broiled. Blue claws were simmered in Freddy's marinara sauce till all their sublime crabbiness was consigned to the gravy, then served over steaming linguine. It was at the Buratti's table that I was introduced to another Vigilia specialty–eels.
And always there was baccala, the salted and dried codfish that was international currency a thousand years before the dollar, yen, or euro. If you are not acquainted with baccala, I urge you to introduce yourself. With the first bite, you will understand why baccala is as popular in equatorial Africa as it is in Scandinavia as it is everywhere in Italy, despite la penisola's almost embarrassing abundance of fresh fish.
Baccala comes in a variety of forms, all of which need to be rehydrated and desalinated prior to use. If you are starting with split, whole baccala, it will need prolonged soaking in several changes of water. Then before it can be used, it must be skinned and boned. In recent years, skinless and boneless baccala has taken over as the default form in the marketplace. In addition to more convenient cooking and serving, it requires much less soaking time. Italian groceries often pre-soak baccala for Christmas Eve and Good Friday.
Because true cod has become increasingly rare and commensurately costly, more and more salted and dried pollack–also called saithe, a cousin in the same Gadidae family–is often sold as baccala. The best salted and dried pollack is caught and processed in Alaska, and is of excellent quality.
For Italians, calamari are as inextricably intertwined with Christmas Eve as Babbo Natale himself. When I was a boy, we referred to calamari as squid, and bought them frozen in five-pounds blocks from the bait and tackle shop on the way to the Point Pleasant day boats. Today, you will find calamari on the menu of every pizzeria, diner, and rug joint in Jersey.
An ounce of calamari provides a psaltry twenty-eight calories. Like shrimp, calamari have been given a bad rap by the food police for being high in cholesterol. But since the total fat is only around one percent, the way it breaks down into cholesterol, saturated fat, etc. is nutritionally irrelevant. Of course, when they are heavily breaded and deep fried, all bets are off. But when simmered in marinara sauce (pass the hot pepper), or blanched and served cold in a salad, both calamari and shrimp are among the cheapest and tastiest sources of low-fat animal protein.
Boiled shrimp and calamari are often combined in a cold salad with scungilli (gray conch), octopus, clams, mussels, and baccala. This melange is dressed with oil, vinegar, lemon juice and mustard, and appears on menus as insalata di fruiti di mare–the fruits of the sea.
When Freddy wasn't polishing his paiolo, he ran a successful trucking business serving the wine and liquor industry. So nobody ever went thirsty at the Buratti's, least of all on Christmas Eve, when Freddy uncorked bottle after bottle of his best bubbly.
Please accept my wishes for a buone festa, and for a happier and healthier 2021.
Baccala, Basic Preparation
Before baccala can be cooked, it must be soaked in several changes of fresh, cold water for from one to several days, depending on how dry it is to begin with. This is done both to rehydrate it, and to rid it of excess salt. The skinless and boneless form is often ready for use after only twenty-four hours of soaking.
Baccala alla Livornese
Baccala, 2 pounds after soaking
Flour
Garlic, 2 or 3 cloves, crushed
Olive oil, 1 cup
Dry white table wine, 6 ounces
Tomato, chopped, crushed or purée, 28 ounce can
Red pepper, crushed, to taste
Black pepper, to taste
Capers, rinsed, 1/4 cup
Olives, Kalamata or Gaeta, pitted, 1/4 cup
Parsley, chopped, 1/2 cup
Drain the soaked baccala, and cut it into pieces approximately 3 inches square. Coat with flour, and slowly fry in olive oil until golden.
Pour off a little oil. Then make room in a corner of the pan and add the garlic, and taking care not to burn it, cook for a minute or two. Then add the wine, and cook until reduced by half.
To avoid splattering, add the tomatoes off the flame, along with the capers and olives. Season with the red and black pepper, and if needed, a little salt.
Return to the stove and simmer, covered, for a few minutes more. Do not stir, but shake the pan gently a time or two. Sprinkle with parsley just before serving.s
Blow Fish Tails alla Babbo
In the 1950s, fishermen regarded blow fish as a nuisance, often inflating them before stomping them and throwing them over the side. A decade later, Americans discovered what much of the world had known since time immemorial–that blow fish tails are among the finest delicacies the seven seas have to offer. As a result, they were quickly overfished, and soon disappeared from the marketplace.
A few years ago, I lucked onto the school shown above. And after taking their picture, I devoured them all, sharing with no one. My fish monger said that these were caught in Long Island Sound, but I've only seen them once since then. They are a gastronomic experience well worth the effort of searching them out.
Blow Fish Tails alla Babbo
Blow fish tails, cleaned
Milk
Tabasco or other bottled hot sauce
Salt
Pepper
Flour
Olive or peanut oil for frying
Lemon wedges
Place the blow fish tails in a bowl. Add milk to barely cover, season with salt, pepper, and a little Tabasco, and refrigerate for an hour or two.
Remove them from the seasoned milk, dredge them in flour, and fry them in one-half inch of oil. When golden, drain on a paper towel, sprinkle with salt, and eat at once, with lemon wedges and hot sauce on the side. Buon Natale!
Latkes–A Duel to the Death and Beyond
I suspect that the argument over who made the best latkes–my maternal grandmother Sadie Popkins, or her sister-in-law, my great aunt Esther Schletter–rages unresolved in the Afterlife. Both women were consummate cooks, and served their latkes in the traditional manner, with sour cream and apple sauce–after all, Esther's husband, my great uncle Jack, was the undisputed Apple King of Paterson, New Jersey's historic East Railway Avenue Market. My big brother and I, however, preferred ours with Pride of the Farm catsup.
Potatoes, Idaho or other russet variety
Yellow onions, one small per pound of unpeeled potatoes
Baking powder, 1/2 teaspoon per pound of potatoes, unpeeled weight
Eggs, 1 large per pound of potatoes
Flour or matzoh meal, see text
Kosher salt, to taste (no skimping!)
Black pepper, to taste, (no skimping!!)
Peanut oil for frying (both ladies actually preferred Crisco shortening)
Peel the potatoes, and grate them directly into a big bowl of cold water. This will prevent them from discoloring. Beat the eggs lightly.
Working quickly, removed the grated potatoes from the water a handful at a time, and squeezing as much water out of them as possible, place them in a clean bowl. Empty the water out of the first bowl, scooping out any starch that may have settled on the bottom and add it back to the grated potatoes.
For every pound of grated potato, add a small onion, finely chopped. (I find that grating can cause onions to become bitter.) Add the eggs, baking powder, salt and pepper to taste, and enough flour or matzoh meal to take up any pooling liquid, and make a fairly heavy batter.
In a heavy skillet, add oil or shortening to a depth of half an inch, and place over moderate heat. When the surface begins to shimmer, add balls of the potato mixture, and press down gently with a spatula to form pancakes about three inches in diameter, and one-half inch thick.
When well browned on one side, turn over to complete the cooking. Drain on a split brown paper bags, and keep 'em coming. (I never once saw Sadie or Esther sit down and eat with the family.) Alternately, keep the latkes warm in a two hundred degree oven. Happy Hanukkah!
Addendum: Though it's a lot of work, nothing beats a box grater for getting the texture right. If the color of the batter isn't just a little pink, you haven't grated the potatoes down to the last, knuckle-scraping nub.
A very good facsimile can be achieved with the shredding disk in a food processor. The trick is to cut the potatoes into half-inch cubes before putting them down the food shoot. This keeps the shreds from being too long–a giveaway that you succumbed to the siren song of high technology. As for the pink, you can substitute a little food coloring or a few drops of beet borscht for the hard labor, and the forfeited hemoglobin.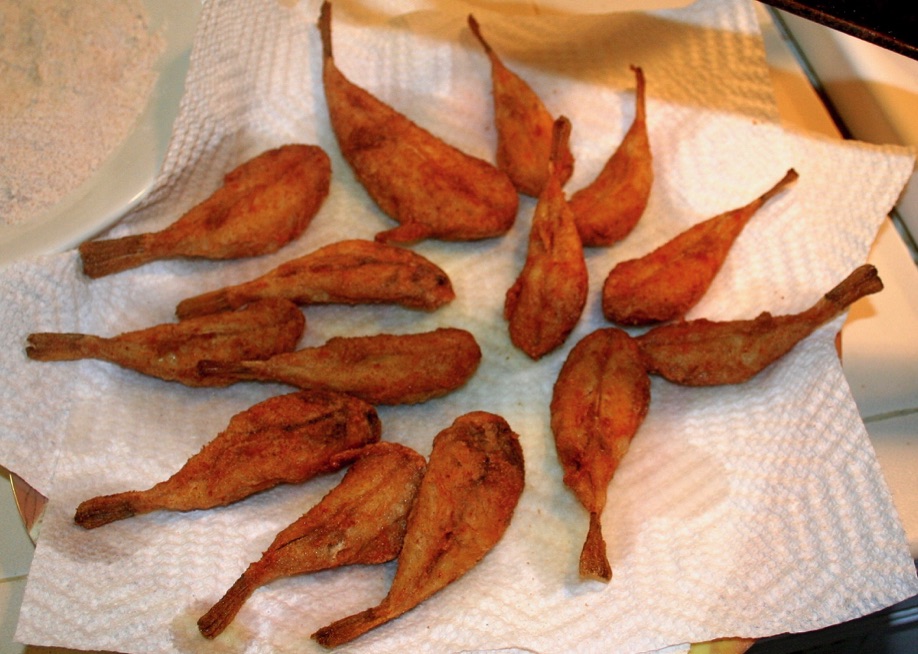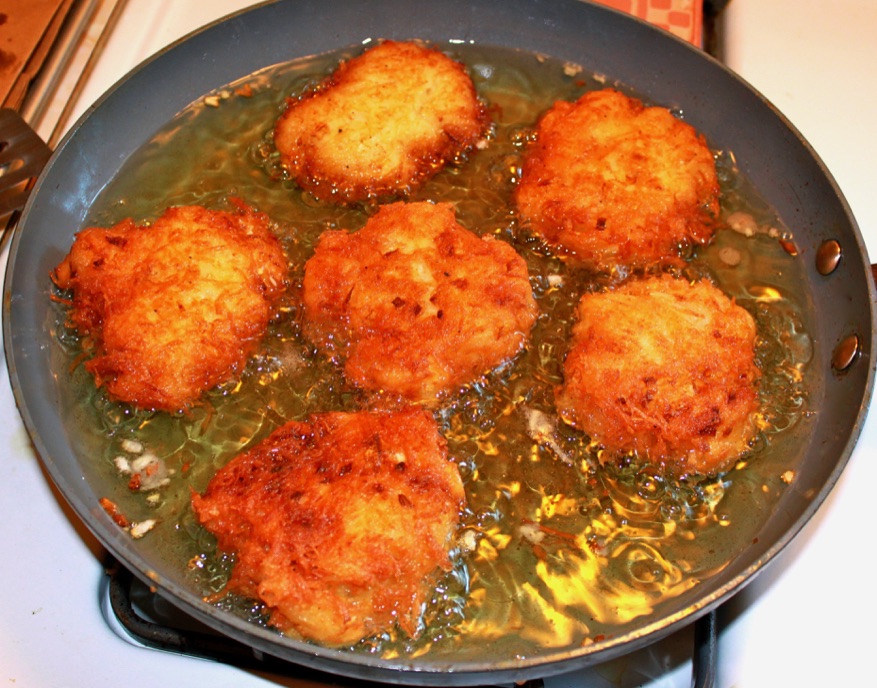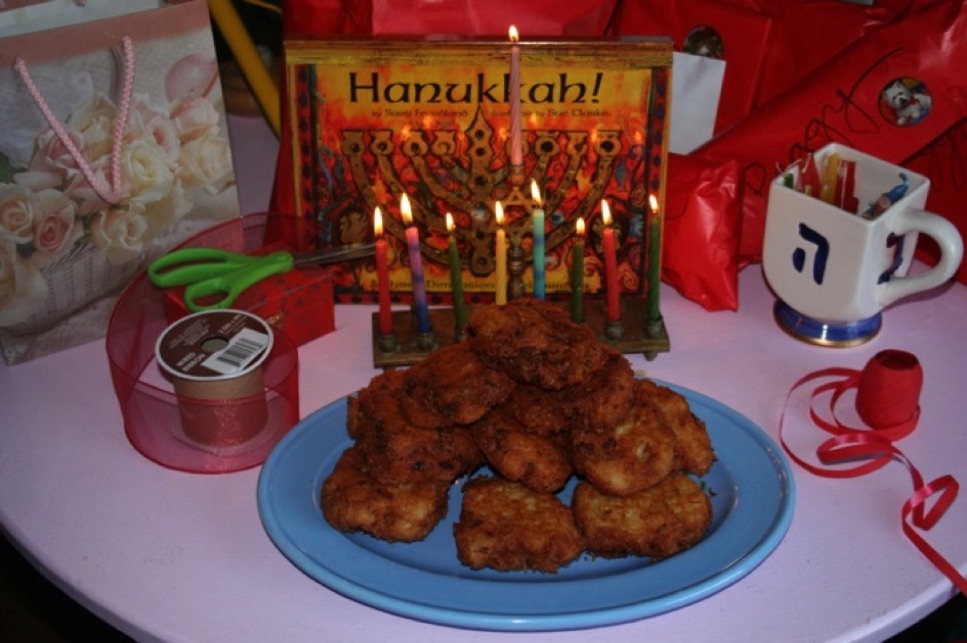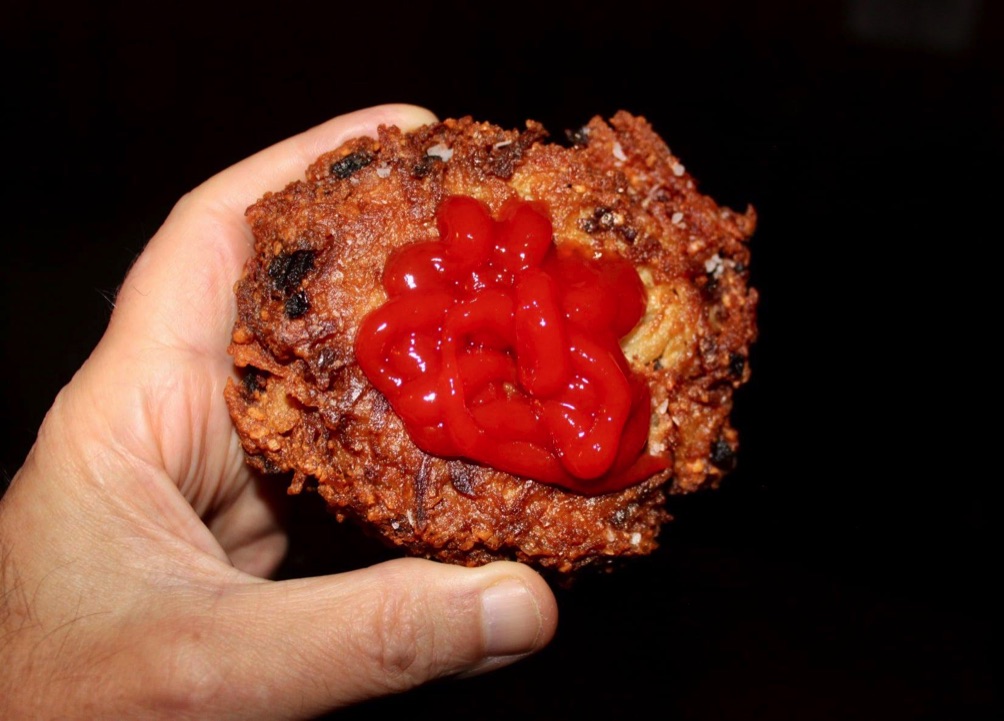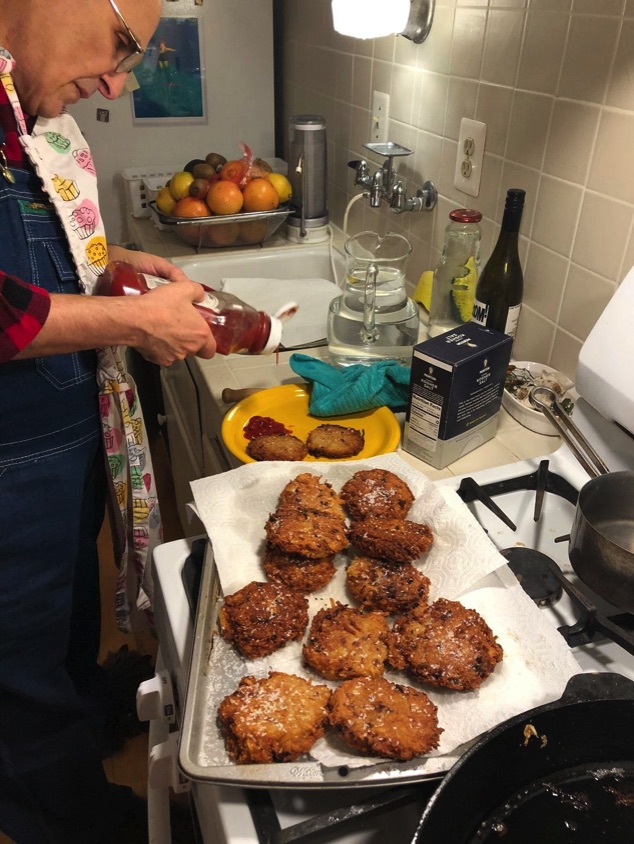 Holiday Cooky Background by Molly Robin Summers